19 Oct

why home birth? – the research doesn't lie
Happy Home birth Awareness Week!
This week is international home birth awareness week (#HBAW2018) so we're going to talk about, "Why Home birth?" Home birth is not for everyone! However, just as it's not OK to force someone to birth at home, it's not OK to force someone to birth in hospital. Women birth best where they feel safest and most supported; we deserve to have options!
Despite being regularly demonised by the media, made out to be extremely dangerous, irresponsible and reckless, research overwhelmingly supports home birth as a SAFE(r) option for most women. However, our current political climate is clearly unsupportive of Australian women accessing this model of care. Besides heavily restricting access to few Publicly Funded Home Birth (PFHB) programs, it over-regulates and restricts Privately Practising Midwives (PPMs). So, it must be unsafe, right? Right…!?!
Home birth Research
Well, erm, no! The stats show us that home birth is as safe (if not safer) than hospital birth for low risk women. So then, why can't more women access this model of care? Why are PPMs so heavily regulated and restricted? In case you weren't aware, private midwives:
Must collaborate with GPs who often refuse to refer
Always have to have a 2nd midwife at births (it's hard enough finding 1 in some areas!)
Are regularly audited
Face vexatious reporting
Currently have no insurance product to cover them for intrapartum (birth) care?
Are expected to do huge amounts of professional development, yet still considered 'substandard' in our medicalised system. "Aren't regulations and restrictions good? Don't they promote safety for women and babies?" I hear you ask. Theoretically, restrictions maintain safety. In practice, these restrictions only serve to: a) Restrict women from accessing the care they desire b) Force women to pay top dollar for evidence-based support c) Drive those women who can't pay or don't have access, and who will not birth at hospital, to freebirth (birth without a care provider) d) Consequently, reduce birth safety for women and babies.
What's wrong with hospital, anyway? Why can't women birth there?
On average, 34% of Australian women will birth their first baby via caesarean. This isn't an issue if you want this kind of birth, but many women don't. When we delve a little deeper, 14% of women are 'augmented' (labour induced or sped up) and 95-99% are given synthetic oxytocin to birth the placenta. Syntocinon is a drug known to increase risk of postpartum depression and anxiety. Deeper again, 19% of women will birth their babies with forceps or vacuum (ventouse) extraction, and 23% with episiotomy (a cut to the perineum). These interventions can often cause serious trauma, both physically and psychologically. Finally, 78% of women (87% of first time mothers) will require pain relief during their labour and birth which can affect bonding and breastfeeding with babies. As I said before, if you want this kind of birth, this isn't an issue! But if you don't? Well, the hospital probably isn't the place for you…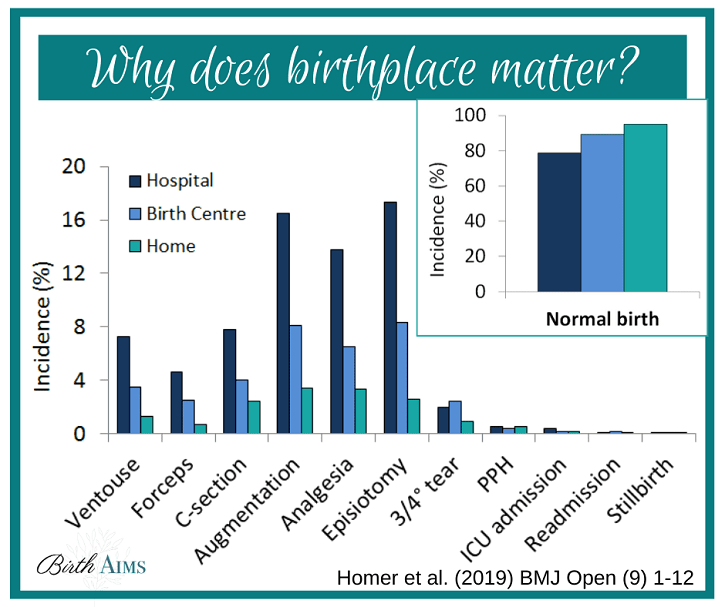 What about Vaginal Births After Caesarean?
OK, so 34% of Australian women will birth their first baby via caesarean. This means that many women birthing their second or subsequent baby will have a caesarean scar. Research supports that 87% of women seeking a VBAC at home will birth their babies vaginally On the flip side, 85% of Australian women will have a repeat caesarean with their subsequent birth after a caesarean. Does this not ring alarm bells? Our maternity system is not adequately supporting women to VBAC, despite the increased risk of repeat caesareans to mum and baby! Hang on, increased risk with repeat caesareans? Yes, I'm glad you asked! A repeat caesarean increases your risks of placenta accreta, placenta previa, maternal death and hysterectomy! OK, so I want a VBAC, and my chances are best at home….
Can I have a VBAC at home?
Many women choose to VBAC at home due to higher rates of 'success'. So, can these women access home birth? In short, YES! BUT they'll need to search for a care provider. A woman who has had a previous caesarean will typically not be accepted into a Publicly Funded Home birth program. Sometimes private midwives won't support these women due to fear of litigation and vexatious reporting. There must be really significant safety issues preventing these Vaginal Birth After Caesarean (VBAC) women from being included, right? So what are the issues that 'risk out' a woman with a prior caesarean? RANZCOG tells us it is a 0.22-0.74% chance of uterine rupture. Less than 1%! To put that in context, in her first pregnancy a woman has a greater risk of placental abruption or cord prolapse in a low risk pregnancy.
What happens when women can't home birth?
Oftentimes ignored in the literature and media, what happens when women can't find a care provider or aren't able to afford home birth? She'll potentially freebirth (i.e. birth at home without a medical attendant). Research supports that this happens, I'm sadly not making this up! Forcing a woman to freebirth because we won't provide her any other options she deems acceptable is NOT SAFE!!! If a woman chooses freebirth from an informed, empowered place, accepting the risks, then all power to her! This is NOT the same as forcing a woman to birth at home because you don't provide her any valid options.
Oh, and what about the most important factor of all?
WOMEN SHOULD BE SUPPORTED TO GIVE BIRTH WHERE AND WITH WHOM THEY FEEL SAFEST!
That is the bottom line.
If you'd like to connect with me,

get in touch

!
Would you like to stay up to date with Birth Aims? Subscribe below!
Who am I?
Hello, I'm Aimee! I support women and their families through pregnancy, birth, postpartum and breastfeeding. I am a qualified and experienced Doula and breastfeeding counsellor, providing support in the Blue Mountains and surrounds. I'd love to meet you for an obligation free catch up! Contact me here.