17 Aug

why hire a doula? Empowering, supported birth experiences
Why hire a doula? And what are they, anyway?
Why hire a doula? Did your friend or family member suggest you ought to hire one? What even is a doula? A doula is a non-medical  person who provides informational, physical, mental, emotional, spiritual and cultural support. Different types of doulas focus on different life transitions. Death doulas provide support and information for a person and their family as they pass away. At the other end, birth doulas support women and their families throughout pregnancy, birth and postpartum. Doula support helps ensure the family feels informed, supported and empowered to make the decisions that they desire.
Every member of the birth team plays an integral role in assisting birthing women. However, doulas are able to be the mother's constant, unbiased companion, alongside or as her birth partner. Doulas help 'hold space' for a woman. What does this mean? It means maintaining privacy and security and creating an atmosphere to prevent distractions, pressure or fears. It enables the process and rhythm of the woman's own labour experience to unfold in a protected environment.
Many women report feeling better supported, more confident and more prepared when having a doula. What does the research report though?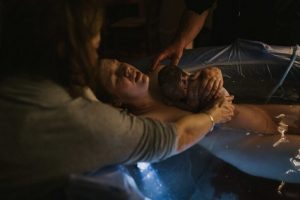 What are the benefits?
A Cochrane Collaboration review compared birth outcomes of doula-supported women to those without doula support. This study reported that by having a doula caesarean sections decreased by 39% and spontaneous vaginal births increased by 15%! Continuity of care resulted in a 31% increase in satisfaction with birth experience. Furthermore, continuity resulted in less pain medication usage (10%), low APGAR scores (38%), instrumental births (10%) and a 41 minute shorter labour! A recent study reported a 13.3% reduction in epidural/pain medication and 8.7% increase in breastfeeding initiation. Furthermore, physiological birth can improve women's emotional state during labour! One study reported a reduction in anxiety and pain by those women supported by a doula.
These effects were also maintained in induced labours where doula support resulted in a 78.7% decrease in caesarean. Even more pronounced for teen mums, doula support results in decreases in epidural use (77.2%), prematurity (44.9%), low birth weight (42.6%), inadequate prenatal care (40%) and caesarean (37.2%), and a 44.5% increase in breastfeeding at 6 months.
Still not convinced?
Furthermore, in "The Doula Book" the following statistically significant differences were observed between women with vs without doula support:
– 12% decrease in use of epidural
– 36.9% or 55.6% decrease in caesarean section
– 77.6% increase in vaginal birth
– 61.4% decrease in synthetic oxytocin use
– 69.2% decrease in forceps used
– 58.3% decrease in infants remaining in hospital more than 2 days
– 21.3%, 47.4% or 50.3% decrease in length of labour
– 74.6% decrease in feeding problems
– 43% increase in exclusive breastfeeding
– 41.9% increase in demand feeding
Increases in breastfeeding rates were likely associated with reduced risk of vomiting (85.7%), colds/runny nose (43.5%), cough (39.1%) and diarrhea (42.4%). Furthermore, doula support reduced anxiety (30%) and depression (56.5%), and increased self-esteem (20.3%) and relationship with partner (57.7%).
I've often heard women saying, "My partner is my doula!" While this can absolutely be a positive, beneficial option, doulas don't seek to replace partners. Research here and here continuously supports that doulas are the stronghold for couples, since partners also require emotional support during childbirth.
"Without her it would only have been him and me, we had only had each other and I can't support him when I am giving birth, someone else has to do that"
If you'd like to connect with me, get in touch!
Would you like to stay up to date with Birth Aims? Subscribe below!
Who am I?
Hello, I'm Aimee! I support women and their families through pregnancy, birth, postpartum and breastfeeding. I am a qualified and experienced Doula and breastfeeding counsellor, providing support in the Blue Mountains and surrounds. I'd love to meet you for an obligation free catch up! Contact me here.