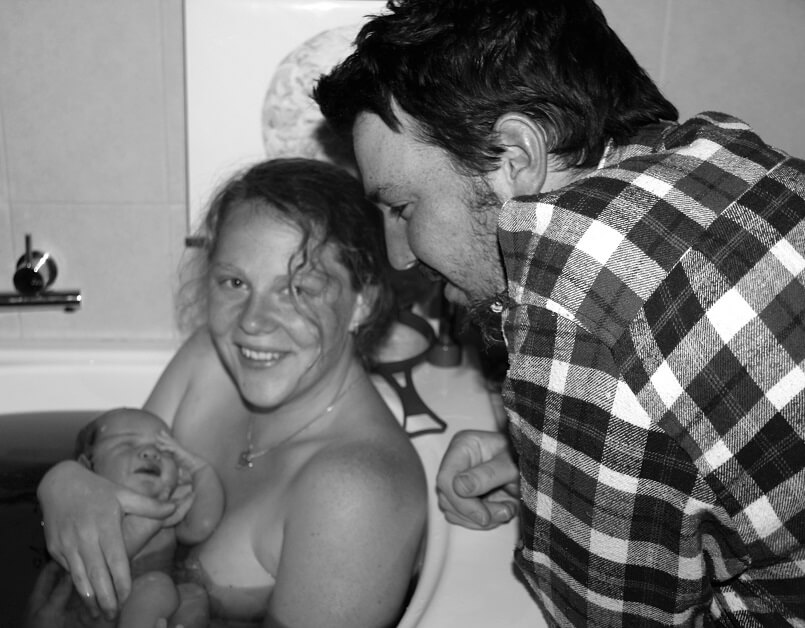 13 Nov

Vaginal Birth After Caesarean – An ecstatic experience
A Vaginal Birth After Caesarean due to prior Placental Abruption: Birthing Hamish
Hamish's Vaginal Birth After Caesarean homebirth story starts with his sisters birth, you can read about it here. After planning a home birth we miscarried our first baby, but fell pregnant again soon after. Despite an asymptomatic pregnancy, with some hiccups, I ended up having a placental abruption at 36+4 weeks. My beautiful daughter was born via emergency caesarean.
While Willow's birth was not traumatic for me, it really instilled a craving to experience labour; just one contraction! It also introduced fear – I was scared of losing my baby, my husband was scared of losing me. Despite this, we tried for another baby 18 months later. After 12 months of trying, weaning Willow and seeing a naturopath, kinesiologist, chiropractor, herbalist, maya therapist and acupuncturist, I fell pregnant but sadly experienced two more miscarriages. Devastated, I decided we would stop trying and just see where life took us…Along came Hamish, determined to do things to HIS plan!
Preparing for my Vaginal Birth After Caesarean at home
My pregnancy was simple and easy once past the anxiety inducing first trimester. Everything with bub and I measured and looked perfect. 37 weeks rolled around and I was shocked and grateful to still be pregnant! I had a gorgeous mothers blessing, organised by a fellow Homebirth After Caesarean mum, and experienced having henna decorating my belly! My chiropractor did a couple of adjustments on my pelvis and soon after that our baby engaged. Over the following weeks I finished work and baby moved further down, but I still felt totally comfortable. I had a few fears surrounding birth, mainly regarding haemorrhage and my waters breaking before labour, and had discussed those and what we would do with my midwife.
"I'm way too comfortable" ~ famous last words!
On the 13th November, our babies due date (and the day after my and before my MIL's birthday), I woke up and commented to my hubby 'I'm still too happy and comfortable being pregnant for this pregnancy to almost be over, this baby is in for the long haul'. About two hours later my waters broke! Lucky I'd released those fears with my midwife. I was delighted to notice that the waters were crystal clear with little flecks of vernix! I was so elated, hugged my hubby in excitement and rang my midwife and texted my doula. We took Willow to the local growers market and saw lots of familiar faces, including a fellow homebirth mum, which had me rushing away for fear of blurting 'I'M GOING TO BE HOLDING MY BABY SOON!!!'.
Braxton hicks?
While walking, I kept feeling gushes of fluid and was filling pads pretty quickly. Little, niggly braxton hicks were starting, so after stocking up on some food we headed back home. I had planned to set up my birth space and bake a birth day cake (chocolate, at my daughter's request) while in labour, but once I got home I realised things were potentially picking up! I tried to rest but realised that laying down made the braxton hicks worse. We set Willow up with a few toys, I packed the food from the markets away and Juz helped me set up my birth space.
I finally felt a surge!! So THAT'S what it feels like!
By the time we'd finished setting up I was swaying and stopping during surges, the most comfortable position being on all fours with a heat pack on my lower belly. My mum called during a surge and I managed to talk to her saying 'I'm just having some niggles, nothing serious' (was this the real deal?). Soon after, the only way I could cope was to rock forwards and backwards over a fit ball, vocalising with heat packs on my lower belly and back. Contractions! I'd felt one, at last! At 2:15pm I asked Juz to call our midwife, she wanted to know whether I needed her and I replied 'I don't know' (I STILL wasn't sure whether this would peter out!). After speaking with her I decided to text my doula…4 surges later, no text sent, I asked Juz to 'please just get her here!'.
At 2:45pm I asked for Jo! Once I had the go ahead I started running the bath and got in! I must have looked ridiculous in 1 cm of water, rocking away in the bath. Just having SOME water around me was helping. Then I lost all concept of time…Jacquie, our doula, arrived and supported me. I remember Willow coming and going. I remember Jo arriving, seeing her calm smile and all of a sudden feeling a flood of relief – my birth team was here, I was going to give birth soon!
My birth team is here! Will I actually have a Homebirth After Caesarean!?
Jo checked on bub and kept saying 'that's one happy baby', which made me feel wonderfully reassured and calm. At one point I got frustrated and decided I was getting out of the bath because it was taking too long. I walked to the bedroom and used the fit-ball again, but after a while I decided I needed the bath, hopped back in and it was blissful! I kept going as I had before, then all of a sudden sitting wasn't working, I needed to stand! So I'd float between contractions, sometimes falling asleep which had me thinking 'maybe I'm close to transition' and then doubting myself, 'no, I have forever to go, this isn't hard enough yet!'. As the surge came I'd stand and hold a heat pack on my front, Juz would support me and hold a heat pack on my back.
This continued until I started needing to put one leg on the edge of the bath! As I was having a surge I felt something drip out of my vagina and looked down, it was a bit of mucousy blood! A few more surges and more blood kept coming. Jo kept checking bubs heart rate and all looked perfect, but she commented that it'd be helpful to know how far dilated I was. I agreed to a vaginal exam and was 8cm (What!?! No way!). Being on my back not able to move during the surges was unbearable, I've no idea how women manage that!
Back into the bath…I'd hold my baby soon!
Afterwards, I got back in the bath and Jo said she'd keep a close watch on bub, but to keep doing whatever I felt. I kept on, but these surges were intense. Juz asked Jo what the time was and I yelled 'NO!', and then said 'hey, it's dark, when did that happen?!'. I looked at the affirmations and focused on one: surrender to the power of your body. I remember pleading with Jo, telling my birth team I wanted to go home, I needed an epidural and asking 'how many more?'. My birth team had an answer for everything! Jo said 'just focus on this one', and so I kept repeating 'just this one' with each surge. I said 'I can't do this anymore' and Jo asked 'what's the alternative?'. Then all of a sudden I remember thinking 'hey, there's pressure in my bum'.
What is this pressure!?
I went with the pressure for a few surges and noticed I was getting pushy, but I was convinced this was a baby-position thing and that it'd go away. Slowly, the pushing urge took over and I commented 'I'm pushing' (Jo knew, of course!). This was the most incredible feeling; totally overwhelming and surreal! I kept visualising an image of a baby crowning and I got really excited – maybe we'd be holding our baby soon! The pushing surges kept coming and going, coming and going, and I wanted to know when it'd be over…"Come ON baby, please just come out!"
I asked Jo, "How much longer?" and she said, "I don't know love, maybe see if you can feel anything". I reached up as far into my vagina as I could and felt… nothing… "It's going to be FOREVER!" I wailed, but Juz squeezed my hand and said, "It won't be, you're doing it, just focus on the next one!". So the next one, and the next one, and then I checked again – "I CAN FEEL THE HEAD!". With each surge I'd check and show Jo on my finger, usually with a big grin on my face. At 1 knuckle away I remember sighing and grinning, and Jo said, "Wow, you're so lucid!" – I felt incredible and womanly, and despite being totally out of control, somehow I felt entirely powerful and capable.
Stretch! And a little more!
Then came a BIG surge, and bub's head started to crown – I felt lots of stretchiness! Jo and I said 'Hah, hah, hah' as bub's head moved further down and then as he crowned out came a gush of blood. It felt like the next surge didn't come for 10 minutes…come on body, I want to meet my baby!! I gave a big (involuntary) push with the next surge and felt a rubbery feeling as the head moved through and down, and then I stared at my babies head – here's my baby, between two worlds! I rubbed the head full of hair and said, "Hi baby, hi!" and waited for what felt like an eternity for the next surge.
Jo couldn't get his heart rate but I told her not to worry, "The baby is pulsing"…the next surge brought bub into the water and lo and behold, bub's cord was around his neck – THAT'S what that pulsing was! Willow squealed, "JO, IT'S A BABY!!!'" As we scooped Hamish up I realised there was something foreign – a penis and testicles! We had a baby boy! It didn't matter enough to acknowledge just yet because Hamish was still coming into his body – he wasn't breathing so Jo asked that I rub him and he ended up needing some suction. Then came his first cry and I was just awestruck by how perfect, squishy and beautiful this little human was!
The placenta 🙂
Oh my goodness! I'd had a Vaginal Birth After Caesarean at home! I actually did it!
I lost some blood so got onto my bed to feed bub and the placenta came out 45 minutes later. We used cord burning to separate Hamish from his placenta but needed to tie it too. Hamish remained so calm, Willow fell asleep, we weighed and measured Hamish and then snuggled up in bed together, in awe of the little miracle that just occurred!
The best birth team!
We had the most blissful, empowering, transformative experience bringing Hamish earthside! I am eternally grateful for my legend of a midwife and beautiful doula, for journeying alongside us through 5 pregnancies, a homebirth caesarean and a vaginal birth After Caesarean at home, always believing in my ability to birth my babies, even when I had my own doubts, and always being present to provide wisdom and love. We've been blessed with a gorgeous, albeit cheeky, baby boy who is absolutely divine, the perfect fit for our family! I love watching my babies love each other and I'm in awe of what my husband and I have achieved; what we created, how we birthed and how we're parenting two little beings – what an awesome team!
If you'd like to hear me tell this story and my first birth story, check out the circle of birth podcast! I also speak about it and my following vaginal birth After Caesarean on the VBAC Homebirth stories podcast and the VBAC birth stories podcast! If you'd like to continue on the birth story journey, check out Evalie Maia's birth story! You can also read about Willow's birth story here.
---
Would you like to stay up to date with Birth Aims? Subscribe below!
About Me
Hello, I'm Aimee! I support women and their families through pregnancy, birth, postpartum and breastfeeding. I am a qualified and experienced Doula and breastfeeding counsellor, providing support in the Blue Mountains and surrounds. I'd love to meet you for an obligation free catch up! Contact me here.